Finally. An update. I am really really sorry that some of you have been waiting for MONTHS U__U Honsetly I had most no inspiration and school is sucking the fun writing out of me :< But I promise, I will try to get better! >__< Also I will really start to make more drawings of Lordi, it was such long time a go now. I have only a few at the moment, but it's better then nothing I guess ^__^'
I have been starting a little "project"; turning Lordi to My little ponys! How ridicolus it sounds, it is great fun to draw them! At the moment I am thinking of make the idea "real" and custom them
Yes I like horses. Hohoho....
Time to reply ppl! >:3
Mara: Thanks a lot, well Gun could be a bit flirty to all kind of females he sees! XD It's just to accept it I guess >x)
Isa: Yepp, I know. Those shadows have not much as brain. I don't think they even have one. Maybe a peanut...
LDD: Glad you liked it
JD: I am happy that you think my own "breed" is interesting x3 I am currently trying to making a little sheet about Skulldemons, and explain more about them
PICS:
Ox and Flame C: Based on Mara's fanfiction "Mortesaria"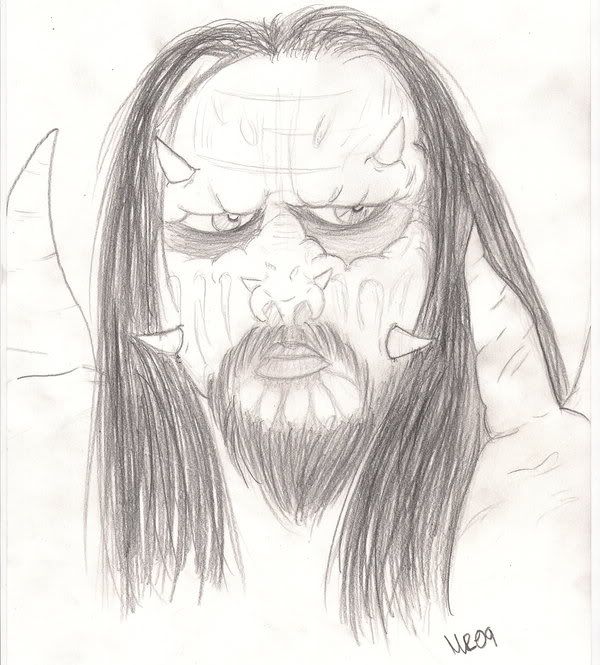 Master Himself!
Mr Lordi Pony!
Ox Pony!
Awa Pony!
"Only" Amen, Kita, Kalma, Enary and Magnum left :3
And now...... I say sorry thousands of times if you so want me too ;___; Well here it comes, a bit longer then the others maybe. And from now, I will really try to update my page at leats once a week! Here comes....
SUPERMEGA NEW CHAPTER! *Guitarr solo*
OBS! This chapter contains a few
strong
words. You're warned
Chapter 7
A nightmare had break loose. The black horse neighed as it fighted for it's life to get off the attacker who tried to bite her neck. The claws pressed deeper into Flame's skin and she had gone mad. She made her best to kick the attacker with her left fronthoof. She hitted the side, but it didn't really make any change. Suddenly she jumped straight up in the air, and the claws of the hungry beast let go from her. He landed on the ground, stood up and snarled against Flame. She had got small wounds of the claws, and the blood ran down on her shoulder and dropped down at the grass. She snorted as she rared and was prepared for the monster's attack. The aliens back and shoulders moved a bit, like a lion preparing for the last attack fo it's prey. The horse still stood on it backlegs, as the beast attacked, with the claws coming closer to the mare's wideopen blue eye….
-Flame no! Flame noticed Sinistras terrified voice and by reaction turned her head. Next secound she felt a burning pain run from her eyebrow, over her eye down to her cheek. She screamed by pain and stumbled to left. She panted heavily and slowly raised hers head. What she met was a pair of eyes, which shined by triumph and victory. The left side of her face hurted terrible and she couldn't open her eye. Warm blood drop down at the ground. At same time she felt a huge desire of revange. She closed her eye and opened it again. At least she knew what was standing in front of her. A demon. And he wouldn't have that kind of pleased face anymore.
And then she attacked the Alien. A quick move that could have made any kind of monster fall to the ground to meet her hoofes. But not this one. This one jumped to the side right before Flame could possibly hit it. Now it stand a few meters from her with a calm look. That made Flame even more furious. She stared at him as she prepared for next attack, when a simillar voice stopped her.
-Flame! Suddenly she felt someone grabbed her mane and the huge black horse faced Sinistra. Flame stared at her a while before her friend opened her mouth to say something, but another voice interrupted her.
-Sinistra! Finally we found you! Sinistra turned her head where she had heard the simillar, and a huge smile shown up at her face as she throw her arms around Gremling. Tears filled her eyes by relief and happiness that two of her friends had found her. Flame was all confused, and turned her in silent to the alien, who had more or less a smile on his face as he took some steps closer to Sinistra and Gremling. Flame didn't like that a bit, with ears licked to her had and showed teeths, she made ready to attack it any minute if he tried to hurt her friend. Sinistra noticed this and let go of Gremling for a secound
-It's okay Flame, these are my friends!
"Friends?"
Flame thought surprised.
"Friends you say Sinistra? Is he also?…"
She thought and her sight reached the alien. He had turned his head and looked all calm in Flame's eyes, wich made her once again put her ears back. Sinistra smiled as she felt the alien's hand on her shoulder.
-Yes, don't worry! This is Gremling and Kita. She said and looked at them both.
-Nice to see that you're alright, Kita said and had a happy look in his face. Flame only stood there, all numb. What in the God's name was going on? She was going to change back to her normal shape, when she heard noises behind her. She turned her head, and almost screamed by the shock. She was standing face to face with the most ugliest face she had ever seen. A pair of cold eyes blinked and Flame transformed back to a Skulldemon by pure terror. The face stared at her with a wondering sight as she fell backwards, landing on her butt. She tried to speek as she stared up on the monster, and she finally understood that she was facing a mummy. He tilted his head to the side and leaned forwards and reached an arm yo Flame.
-Need any help? He asked. Flame stared at the hand, then on the mummy.
-IIIIIIIIIIIIK! She flew up and rushed to hide behind Sinistra, who toghter with Gremling, Kita an Amen stared at her. Then they brust out laughing.
-It's okay Flame, it's just Amen and Ox, Gremling said while she made her best to not laugh again. Amen, now together with Ox, who had appeared not many minutes ago, went over to the rest. Flame was still standing behind Sinistra, praying that she would be small enough so they couldn't see her. What a misstake. The mummy reased his neck some and finally got eyecontact with Flame, who was terrified.
-I am not that dangerous you know, he said and tried more or less with the skulldemon.
-But… You're a mummy. Amen looked at his hand.
-Oh my look! I think you're right! And once more everyone brust out laughing. Even Flame let go of her shy feeling and stepped to Amen. As she felt like the fear had blown away, she more or less punched on Amen's left arm.
-I like you! I love people… Monsters with humour! She said happy. Everyone stared at her, but it was Amen who showed a smile first.
-Hehe, nice to hear that. He said with a short laugh. Since not everyone does it…. He threw a sulky gaze on Ox, who pretended that he saw a pretty butterfly in the air. A while of silent passed, before it was Flame who broke the silence.
-Welllll….. It was really nice to meet you all! Amen, Gremling. Sinistra…. She turned to her friend and tried to avoid eyecontact as she felt that her eyes got wet.
-It was really a pleasure to meet you. I guess it won't take long now until you find your husband… She turned around to walk away when she stopped by someone grabbed her arm. She turned and met Sinistra's eyes.
-But where are you going? She asked Flame and had somehow a sad look in her face
-I…I must finnish my mission… Flame said it low and almost mumbled the words.
-Oh… Are you sure you don't need any help?
-No, no it isn't a hard thing… Really nice to meet you all! Sinistra let go of her grip and Flame started to walk away from the place, almost running. She didn't look over her shoulder one single time, before she was sure that they were out of sight. Then she stopped, and turned her face to the path she had been walking on, meanwhile a few tears touched the ground.
"I hate this…. I am sick of it…. I would like to tear the whole world apart!"
Her eyes noticed a little stone that lied on the grass, wich she kicked away many meter from her. She was all furious. All this stupid shit just because of the fact that some persons couldn't keep their hands away from what didn't belonged to them. Flame looked down at the water beside her and shivered. Around 20 meters down from her was a big river. The blue water sparkled as the sunbeam hit it. If Flame wouldn't have the Fire as element, she would have loved to take a bath. But even if she wouldn't have owned the element, anyone could get scared of the look. Because beside the road the demon went on, the whole side were covered by rocks. Falling down meant that you would first hit the rocks many times before you finally fell into the river, and then probably drown. Flame shaked her head and then she got her sight on another stone that lied in front of her, and of course she had to hit it. The stone flew and bounced a couple of times on the ground before it finally stopped. By someone's foot. Flame stopped and her heart began to pound when she slowly raised her head. She almost screamed of fear but only made a little gasp, when she found out that it was three of her own race that was standing a few meters from her.
-Hello Flame, it's been a while… A tall, muscular Skulldemon, with ears as a mastiff, long darkbrown hair and cold eyes stared at her. Beside him stood also another male and a female.
-Azrael… Rose… Ohio…. What are you doing here? Flame stretched her back some and glared at them all while her ears wiggled. The tall one called Azrael made a loud laugh before he took some steps closer to Flame.
-We? The question is more: What are YOU doing here? We thought you were supposed to examine were the rest of our soliders have gone. And this is sure not the right way, is it? His two other companions giggled and also got closer to Flame. The male had two, short ears, wings on the back, short blonde hair and were only dressed in a pair of black jeans. The other one, a female, with long pink hair was dressed in a very long black jacket. She had a scornful look at Flame, like she didn't mean much more then dirt to her. Flame Stared back in her eyes and said angry
-I am, but I had to finish something first….
-Like what? The Female called Rose said with a bitter tone in her sentence.
-I bet you are running away from your mission…. Again. She made a low giggle and so did Ohio, they were more or less both amused by bother Flame.
-Excuse me? Flame's eyes burned by anger as she stepped as close as possible to Rose.
-And who are you three to judge? If you really are better then me, then why are you just walking around, doing nothing more then skracth your asses during the day? Ohio made a low snarling noise as he didn't like a word that Flame said.
-Darling, you should choose your words very carefuly, someone might get hurt….. Azrael leaned his face closer to Flame's. Some of his hair fell over his face and touched Flame's forehead. Their eyes got a strange connection. It was like the male close to her waited for something. She knew exactly what it was and she felt the anger boil inside her. Then she opened her mouth
-You are still waiting that I shall go to bed with you, aren't you?
Not even a secound passed after her words, before her head flew at the side. Azrael had slapped her face, and not short after he grabbed her neck and held her in a hard grip. Flame felt a small pain in her skull as a little river by blood ran out of her nose. Azrael pressed his claws tighter as Flame gasped for air.
-I warn you…. Just because you're on of the seven lords daughter, it doesn't mean you have the power to control eveyr skulldemon, telling them what to do or not, especially not us….
-When should I have said that? Flame whispered as loud as she could while she didn't take her eyes of Azrael's.
-Tell me one time, and feel free to do what ever you want with me. Rose and Ohio looked at their leader, waiting for what he would do. Some secounds passed away, it was like the whole earth stood still. Until Azrael let go of Flame's neck and pushed her backwards. She stumbled backwards, coughing for air. Rose saw shocked on Azrael
-What are you doing?! Why… She got quickly silent as his gaze scared her to become silent.
Flame got finally enough with air in her lungs to say something, so she opened her mouth. But not a single word came out. None of them, Azrael, Ohio, Rose or Flame said a word. They only stared at eachother, waiting for the next one's movement. Flame was the one who broke the silent. Carefully but not scared she went past them all, without looking at them. She walked calm away, and the only thing she heard was the sound of her now "enemies", walking away. From the place, at the oppiste way. When Azrael heard that Flame was far away enough, he threw a gaze over his shoulder before her grabbed Rose by her arm and dragged her head closer to his.
-Hey, what are you….
-Be quiet and listen now…..
-Something is wrong…
-Pardon? Gremling and Sinistra was sitting on a fallen tree, meanwhile Ox, Amen and Kita was searhing for something too eat. Far away they could hear Amen's angry yell as he had failed killing a hare.
"I Wonder who is the smartest of those two auctally"
Gremling thought but didn't care much about Amen and his hare. She turned her face to Sinistra, who had a worried look in her green face. She had placed her both hands on her arms, like she was freezing.
-What's wrong? Gremling tilted her head and saw at her friend, waiting for an answer.
-Something is going to happen…. I can feel it. Not about us, but with Flame… Gremling looked in the distance as she was thinking. She didn't feel anything at the moment, but maybe Sinistra was right…
-Well I…. She turned her face to the woman, but her sentence got interrupted. Amen had stepped beside them, and had a very dissapointed look in his face.
-Dinner is served my ladies…. In his left hand did a small mouse hang from it's tail, struggling and whined loud for it's life..
None of them noticed the lonesome hunter that watched them from a cliff over the place.
Flame sighed angry as she stopped to rest some. She leaned forward and was holding her hands on her knees.
"Why does the shit always hit me in first place? I was never asked to become leader of the group…. I just want to do things as a normal person would do…. Having friends… Sinistra"
She closed her eyes and swallowed the cry. She had no time to rest. She was going to strecth up again and walk, when she froze. She could felt someone's eyes on her back. She jumped and turned around, as her sight searched for the one who was staring at her. But none was around, none were at the road. Wait….
She raised her head as she noticed she had a huge oak at the side of the road. She looked at the mighty tree's roots, then the trunk, as she finally had her sight on the tree top and it's green leaves. And there, on a thick branch…
-Rose! How long have you stalked me, your goddamm bitch! She yelled and started to tremble, she was furious as the other female was sitting there on her branch, with the legs hanging down, and a loud giggle came from her throat.
-Why you blame me for everything? I have only been sitting here in my tree, make sure that you don't make the whole clan disappointed… again.
-COME DOWN RIGHT AWAY! Flame nearly screamed her lungs out. Her scream made the birds in the oak fly away terrified. Rose made a short laugh before she went quiet and stared at Flame, with a not so amused look anymore.
-Look what you did! Scare poor birds. You stupid slut…..
-Fight me then! Fast as the words was heard, Rose jumped down from her branch and attacked Flame with her claws as she landed at the ground. Flame made her best to not get skratched by Rose, and made her best to protect herself with her arms. As Rose got closer and closer, Flame found a chance and kicked her at the side. The female made a gasp but didn't stop claw Flame's arms. Her leatherjacket wasn't much as a shelter, and soon she could feel the pain rush through her arms.
"My Katana…. If I could stop her with my Katana…."
She thought desperate as she wondered when she would get the chance to pick up the sword that was hanging in the belt. She pushed Rose back enough to give her another kick, but this time she was prepared. She moved away from the kick, grabbed Flame's leg and simply gave her a kick in the stomach. Flame lost the little balance she had and landed at her back. She shaked her head and tried to get up, but suddenly screamed by pain.
Rose had kicked in the loose ground, and made stone and sand flew right in Flame's eyes. She rubbed them, trying to see anything. She was almost finished with clean the eyes when Rose threw herself over her, pressing her arms down in the ground. Flame tried to get loose, and they rolled around in the dirt before the pinkhaired sat on Flame, holding her arms down enough to make sure she wouldn't try to fight back. Now they were dangerous near the hill down them, and after that, water…. Flame swallowed by the thought.
-Give up!
-Never!
Flame struggled as good as she could, but she had been wrong about Rose strength. She wouldn't let her go.
-Think about it… if you leave this world of our and let the lords think you're dead, it will be so much better for both you and me! You will be released from this mission, and Azrael becomes the new leader. Everyone get pleased.
"So That's what they're looking for"
-Not me…. Flame pulled back her arm from Rose's grip and punched her in the side of her head. She made a small growl but Flame was almost free. She grabbed Rose's neck but before she could do anything she felt like they both…. Slided?
Flame got cold by fear as she found out like they were slowly sliding down the hill. Rose screamed and let go of Flame, trying to climb back to safe ground. Flame did the same but her hands didn't get any grip in the stone. Now it went faster and both she and Rose started to roll down . Both of them made their best to grab something that could make them stop from fall down. Flame suddenly felt that the hill under her disappeared under her and she fell. She heard Rose's terrified scream as her own body hit rocks and stones many times. She felt the pain through her body time at time, until it finally said stop. She landed with a slam on something she beilived was another cliff… Or ground. She didn't know neither cared about it. She looked around but couldn't see Rose anywhere.
-She must have continued down to the water…. Flame whispered as the pain was indescribable and she felt nauseous, like she was going to puke. The whole world spinned around her, and she felt how she slowly was going to faint.
-What have I done…. She whispered before everything turned to total darkness
.